Professional & Affordable
Discover Our Dedication to Customer Satisfaction
At CQ Surfacing, our dedicated team is committed to exceeding your expectations. With access to state-of-the-art equipment, our professionals deliver durable, efficient, and cost-effective driveway solutions. If you're in search of a reliable team for domestic tarmac surfacing in Clacton-on-Sea, Romford, Billericay, Colchester, Harlow, or Chelmsford, your search ends here.
Discover the Benefits of a New Tarmac Driveway
Explore below a few compelling reasons why investing in a brand new tarmac driveway can greatly benefit you. Additionally, take a glimpse at some of our past projects that showcase our expertise and attention to detail.
Durability

When it comes to longevity, tarmac driveways reign supreme. Years of dedicated research and development have allowed us to refine our tarmac services, ensuring that our customers receive driveways built to stand the test of time.

Tarmac possesses exceptional resilience, capable of withstanding diverse weather conditions and the inherent fluctuations they bring. No matter the temperature or precipitation, tarmac driveways remain intact without the risk of cracking or damage.

Adaptability

Working with tarmac is straightforward, and our team of skilled professionals at CQ Surfacing excels in delivering tailor-made driveways to meet your specific requirements. Whether you have unique dimensions or limited space, our experts will seamlessly install a tarmac driveway that perfectly fits your needs. Rest assured that our team will transform your vision into a reality, creating a tarmac driveway that exceeds your expectations.

Low Maintenance

While tarmac driveways are highly resistant to damage, in the unlikely event that cracks appear, our proficient team can swiftly perform repairs, ensuring a seamless and timely resolution. Count on our expertise to efficiently address any issues, with repairs typically completed within a matter of hours. With tarmac, you can enjoy a long-lasting surface that demands little maintenance and prompt repairs when needed.

Affordability

Thanks to its cost-effective nature and efficient installation process, tarmac driveways offer exceptional affordability. The readily available and budget-friendly materials make tarmac the preferred choice for many property owners seeking a cost-effective solution. Benefit from the combination of quality, durability, and affordability that tarmac driveways provide, making them the number one choice for discerning property owners.
Domestic Tarmac Surfacing in Romford
With nearly four decades of dedicated service in the surfacing industry, we have amassed a wealth of knowledge and experience that sets us apart from other businesses in the field. Our extensive expertise allows us to deliver unparalleled quality and craftsmanship, ensuring exceptional results for our valued clients.
Our domestic services extend to properties throughout Essex, including Clacton-on-Sea, Chelmsford, Billericay, Romford, and Harlow. No matter where you are located within these areas, our team is ready to cater to your driveway needs with professionalism and precision.
If you're seeking comprehensive solutions for your driveway needs, don't hesitate to reach out to our team of professionals. We are more than happy to provide you with detailed information about our services and discuss how our expertise can benefit you. Take the first step toward enhancing your property by contacting us today.
Continual Investment in Innovation
As a forward-thinking company, we are dedicated to staying at the forefront of industry advancements. We continually invest in the latest innovations to enhance our services and improve efficiency without compromising the quality of our work. Our specialists are equipped with the knowledge and expertise to provide cutting-edge groundworks, resurfacing, pothole repairs, and surfacing solutions in Brentwood, Harlow, and Chelmsford. Contact us today to learn more about how our services can meet your specific needs.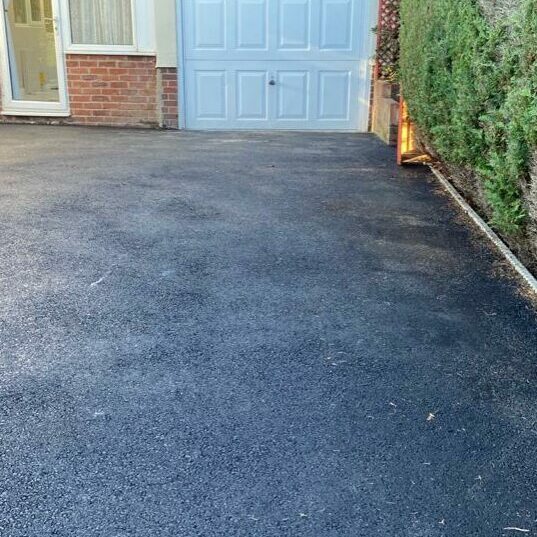 Learn More About Our Services
For over 38 years, CQ Surfacing has been a trusted name in tarmac surfacing in Clacton-on-Sea. Our dedication to friendly and reliable service has earned us a stellar reputation in the industry. We take immense pride in delivering domestic driveways and surfacing projects that consistently meet the highest standards. If you're in search of the best tarmac surfacing company in Clacton-on-Sea, your search ends here.

Works were completed ahead of schedule and within the original quotation.  We had a sandstone patio prepared and layed and we are over the moon with the end result.
Laid a patio and did an excellent job, friendly and very enthusiastic , A well recommended company
Great service from a professional and experienced company. The personnel on site were polite and professional.
Had my old cracked and broken tarmac drive completely re-done and they made a terrific job of it. Very pleased.