Your leading provider of comprehensive tarmac solutions in Essex.
We pride ourselves on going above and beyond to bring your project to life. With our extensive range of cutting-edge tools and equipment, we possess the expertise to tackle any surfacing, groundworks, and site levelling requirements in Chelmsford.
While browsing through our services, please don't hesitate to reach out to our team if you require a service not listed below. In addition to offering exceptional groundwork, pothole repairs, resurfacing, and tarmac driveways in Chelmsford, we thrive on embracing new projects and conquering fresh challenges. Our unwavering commitment to quality extends throughout Chelmsford, Maldon, Basildon, Colchester, Harlow, Billericay, Brentwood, and the surrounding areas in Essex.
Discover the CQ Surfacing Ltd difference and let us exceed your expectations. Contact us today to discuss your unique requirements and embark on a journey towards impeccable surfacing solutions.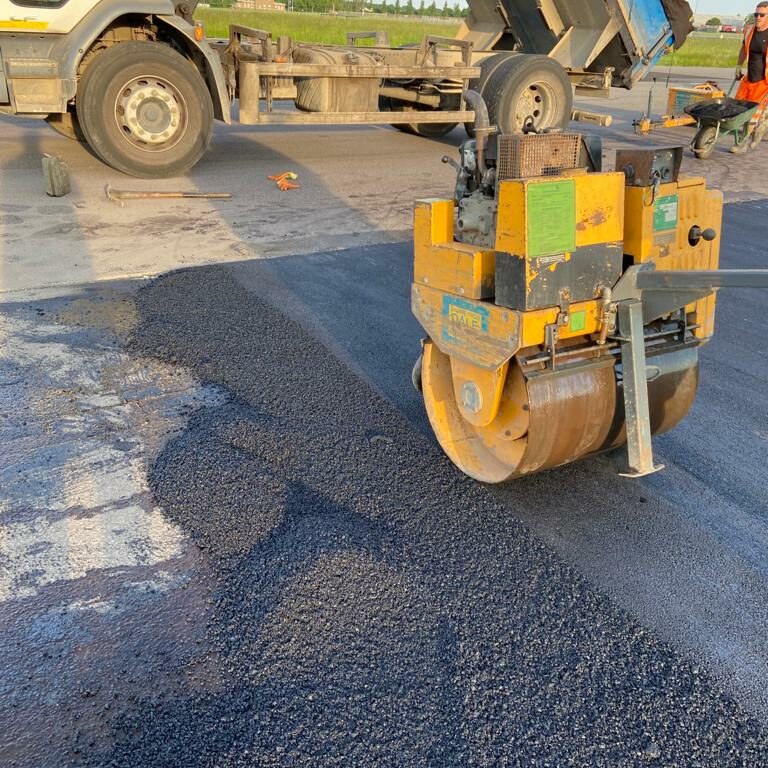 38 Years Of Experience
In this time we have developed and perfected the skills necessary to provide you with the very best service and a finish that is unmatched in the industry.
Fully Insured Company
Our team are fully insured to carry out any project work, this means if any problems were to arise we will be able to put it right.
Quality Assured Work
At CQ Surfacing Ltd, we are committed to your satisfaction, going the extra mile to address any concerns and make necessary adjustments until you are fully happy with our work.
Looking to revamp your outdoor space? Look no further than CQ Surfacing Ltd, the experts in surfacing and tarmac installation. From sleek driveways to inviting patios, their skilled team can transform your property's exterior with a range of services to suit both residential and commercial clients. And if you're in need of repairs, they can tackle pesky potholes with ease. Trust in CQ Surfacing Ltd for a job well done and an outdoor area you'll love for years to come.
Learn more about the individual services we can offer. We can adapt our solutions to fit the needs of any project, small or large.
Our expertise in commercial tarmac solutions allows us to cater to the specific needs of businesses and commercial premises. Whether you require a new tarmac surface for a parking lot, access roads, or industrial areas, we deliver exceptional results. With a focus on durability, functionality, and aesthetic appeal, our commercial tarmac services are designed to withstand heavy usage while enhancing the overall look of your property.
Transform your residential property with our high-quality tarmac solutions. From driveways to pathways and beyond, we offer expert installation and maintenance services for tarmac surfaces. Our team is dedicated to creating durable, long-lasting, and visually appealing tarmac surfaces that enhance the value and curb appeal of your home. Trust us to deliver a smooth, reliable, and aesthetically pleasing solution for your residential tarmac needs.
Elevate your outdoor spaces with our exceptional driveway and patio solutions. Whether you prefer the versatility of tarmac, the elegance of resin, or the classic charm of paving, our team can bring your vision to life. With a keen eye for design and meticulous attention to detail, we create stunning driveways and patios that perfectly complement your property. Experience the perfect balance of style, functionality, and durability with our range of driveway and patio options.
At CQ Surfacing Ltd, we offer comprehensive groundworks services to lay the foundation for successful construction projects. Our skilled team provides excavation, site preparation, and groundwork services that adhere to the highest industry standards. From levelling the terrain to ensuring proper drainage and utility installation, we take care of every aspect of the groundwork, setting the stage for efficient and successful construction projects.
Don't let potholes compromise the safety and aesthetics of your surfaces. Our pothole repair services are designed to quickly and effectively address these issues, providing smooth and hazard-free surfaces. Our experienced team utilises the latest techniques and materials to efficiently repair potholes, restoring the integrity and functionality of your paved areas.
Beyond our core services, we offer a range of additional services to meet your specific needs. Our comprehensive solutions include drain inspections to ensure proper functionality and prevent potential issues. We also provide site levelling services to prepare the ground for construction or landscaping projects, ensuring a stable and even surface.